Hello – and Happy September 1st!
My card marks the debut of two newcomers to my collection; first, I'm excited to showcase one of the four blooms from the amazing
Bloom Sketches
set, which I water-coloured with the second new arrival: Twinkling H2Os. The pairing of these blooms with twinkling, sparkly paints…swoon-inducing! I may come to love water-colouring after all. Too soon to tell for sure, but "leaning in that direction" is happening...
STAMPlorations Bi-Weekly Sketch Challenge #19
I stamped/masked (my masking needs much more practice!) the daisy for the background panel, then heat embossed it once again for the main panel. The water-colour base is inset into the coral/orange panel (it looks quite orange here..), so it is a modified one-layer card...I think...
My photo doesn't capture the 'twinkling' of the paints, but trust me: the shimmer and glimmer are quite pretty, and the colours I chose match the paper much better than what's conveyed here. Those flowers have me swooning...and the other three, oh my!! They're lovely - and perfect for stamping, colouring and water-colouring (I can't believe I just said that...). And the sentiments...fabulous. I'm crushing over this set!
Be sure to check out the
STAMPlorations blog
, where you're sure to be dazzled and delighted by the team's creations. Play along: they're soooooo incredibly welcoming!!
I'm also entering:
Simple Create Too #69~ Show Us Something New
(stamps and paints)
Simon Wednesday Challenge~Anything Goes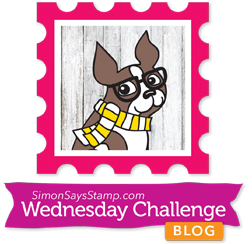 Thanks so much for dropping by; your visit and comments add sparkle to my day!