HAPPY NEW YEAR to all my wonderful friends!
My family and I want to express our heart-felt gratitude for all the prayers, compassion, notes and hugs sent our way during the past several days, when you learned of my father's life-threatening condition.
With deep sadness, I share with you that my father passed away on December 30th, which was my parents 56th Wedding Anniversary. At the moment, I have no words to express my sorrow, but I will at some later point. Just know that I truly have drawn tremendous strength from your support in my efforts to be strong for my mom. I'll be staying with her for two more weeks, so my cards for the next while will be rather simple. My husband packed and delivered my mobile crafting unit when he came yesterday, knowing that spending time creating would provide me excellent therapy. How right he is.
Whew...thank you for indulging me with my news; time to shift gears to announce that today begins the first
Inkspirational Challenge #73
for 2015, with this many-possibilities word prompt:
We're joined by amazing designer,
Marika
, who has created a smile-making, day-brightening card for us. My team-mates will also dazzle you with their varied interpretations of "note", so please take some time to visit their blogs and leave them some love...
My card is simple...a several-layered die cut CAS-ual Fridays' treble clef, a wee music stamp and one of my favourite sentiments from STAMPlorations. How sweet that my husband included a note-themed die in the 'picks and chooses' he made for me!
Finding a photo-shoot spot at my mom's proved a bit challenging, so my apologies for the somewhat 'washed out' picture (umm..and maybe getting it finished earlier in the day would have helped, too. I have a good excuse: we went for a most delightful bit of 'healing': spending time with my niece and nephew, and as always, time kind of got away on us...)
(A new photo today, sharing some space with one of the beautiful bouquets we've received....)
I'm adding my card to the galleries at:
Virginia's View Challenge #11~Clean Slate
Simon Says Wednesday Challenge~Anything Goes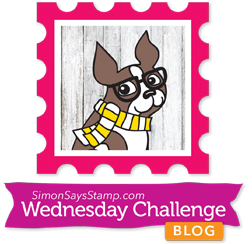 Looking forward to seeing your note-inspired gems over at Inkspirational. The winner will be invited to Guest Design for a future challenge; I'd be thrilled if it were you.
Thank you so much for dropping by; your visit and comments add sparkle to my day!